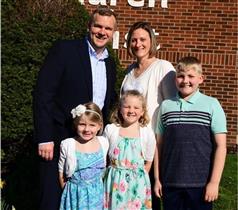 Jordan Ickes, Minister
Jordan and Wendy have been with us since August of 2007. They keep very busy with there three children, Oliver, Ellie, and Audrey. Jordan and Wendy both love watching Netflix shows, drinking great coffee, listening to music, playing music, and getting outdoors for all kinds of sports activities. They love golfing together and enjoying the park with the kids. During the week you will catch them working in the Triton school as volunteers, or Jordan might be a substitute teacher now and again. You will definitely meet them at Taco Bell at least once a week or a pizza place as well!
Jordan and Wendy came to us from Great Lakes Christian College in Lansing, MI. Jordan was born and raised in northern Michigan, so you have to forgive him for being a Michigan State, University of Michigan, Detroit Tigers and Lions fan. He loves coming from the mitten and makes the occasional joke about Michigan being better than Indiana. But deep down he loves raising his family to be Hoosiers. Wendy was born in Indiana, but her family moved to Michigan early in her life. She's a healthy mix of Michigander and Hoosier!
Jordan loves the Lord Jesus, and he preaches with passion about the great Savior of the world.
Wendy loves the Lord, and she enjoys leading us in worship, celebrating the great Savior of our world.
If you want to know more about Jordan and Wendy, please reach out to them via email: joickes@gmail.com or make friends with him on Facebook. https://www.facebook.com/joickes
Wendy Ickes, Worship Leader and Office Admin
Wendy loves serving alongside of her husband Jordan. They came to us in 2007 serving the Kingdom together. Wendy loves worship ministry and women's ministry. She would love to connect with you on a Sunday or during the week for coffee.